A heartbreaking change of plans
Dear Thomas Point Beach Bluegrass Festival Family,
We waited, we hoped, we dreamed, we planned, and then we waited just a little longer. While we have tried to remain optimistic, the time has come for us to make the announcement we have all been dreading. We are sure you can understand just how difficult a decision this has been for us.  The very idea of not being able to welcome you all home and present the fantastic line-up of stellar bluegrass musicians we had lined up to entertain you is heartbreaking.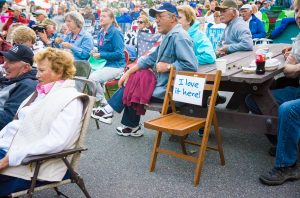 So much love and care has been put into trying to present a plan that would keep each and every one of our patrons, artists, staff and volunteers  as safe and healthy as possible. We had high hopes that in time, we would see an improvement in the Covid-19 crisis as we moved through the summer and the clouds would part and the skies would brighten. However, it was not in the cards.  With mass gathering restrictions, 14-day quarantines for many states in place, the Canadian borders closed, many of our dear festival friends in high risk groups, and recommendations and mandates changing as fast as a Ronnie McCoury mandolin lick, hosting a festival of our size and complexity no longer seems possible. In the interest of keeping all of our bluegrass family healthy and safe to enjoy many musical years to come, it is essential that we postpone this year's festival to Labor Day Weekend 2021. 
Now for some good news.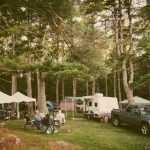 For those who are comfortable doing so, and are able to meet our state and park guidelines for safety, Thomas Point Beach Campground will remain open for camping through Labor Day weekend.  We plan to be prepared for any "non-fest" campers from Friday, August 28 through Monday, September 7, and will provide plenty of socially distanced camping in the same free-form manner our bluegrass family is accustomed to. 
The pricing for this "Festival Family Camping Week" will be $25 per night, or $35 per night with Electricity.  This will include up to 2 Adults and 2 Children, with additional children $5, and additional adults $10.  Tax included.
We are also still planning to hold our Showcase Band Competition virtually!  Please follow us on Facebook for updates to see how to join us and still get your vote count!  https://www.facebook.com/thomaspointbeachbluegrass/
If you have already purchased a ticket to the Thomas Point Beach Bluegrass Festival, we ask that you please do NOT call or email unless you have a very specific question— In the coming week, we will email YOU (check your spam) with a form to reply. You will have the opportunity to:
Roll over your ticket to 2021 —your roll over money will assist with ongoing festival expenses including artist deposits for 2021.  Patrons who choose this option will receive a limited edition vinyl sticker for your camper, car, or instrument case!
Sponsor a personalized picnic table!  Our goal this year was to have some shiny new picnic tables in place for you all, but with no show and a challenging 2020 season due to the Covid-19 crisis, realistically this is not going to happen.  For ea

ch $100 donation to the festival, we will have a new table with your name engraved for the 2021 event, as well as one of those fancy stickers from option 1.

Roll your fees paid so far into 2020 camping as outlined above.
Request a full refund.  We completely understand.
Please stay tuned for more announcements and updates, and thank you in advance for your patience. 
We will get through this together.
Wishing you health and hopefulness,
Michael, Jen, Shari, and the entire TPB Festival team

Update (07/22/2020): We changed the number of "people" per site to "adults v children," to more closely match the pricing schedule of the Campground.