2020 Showcase Applications are Open!
Could YOUR Band be the next TPB Showcase Winner?!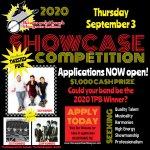 The Thursday line-up will be made up of the finalists in our Showcase Competition and will feature the 2019 winners The Ruta Beggars, 2017 winners The Bluegrass Unit, and headlining the night will be the always talented and effervescent, Twisted Pine -our 2013 showcase winners and winners of 2018 Boston Music Awards Americana Artist of the Year!
Complete competition details and applications are available at: https://www.thomaspointbeachbluegrass.com/showcase-band-competition/