Workshops and Family Activities
The 2023 Schedules are HERE!
We are pleased to offer a variety of activities suitable for  families to participate in as well as a full selection of both Instructional Workshops and Artist Workshops. 2023 WORKSHOP AND JAM SCHEDULE HERE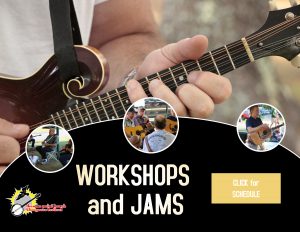 Workshops and Jams
We do our best to adhere to the published schedule, but workshops are always subject to change due to presenters travel, health, or other circumstances. 
Instructional and Artist Workshops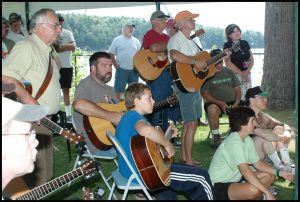 Friday-Sunday a full schedule of workshops are available at no additional cost.  Workshops are presented by qualified teaching artists, as well as by many of the talented musicians that headline the Main Stage.  Workshops may focus on specific instrumental skills, vocal lessons, band dynamics, jamming etiquette and technique or sometimes they may take a storytelling format.  These are a wonderful opportunity to improve your own skills or to have a more intimate experience with a favorite artist. All skill levels are invited.  Workshops are typically held under the White Tent Located by the beachfront near the Osprey's Nest, but check the program for details as locations can change.  Some Chairs are provided, but feel free to bring a few of your own.
A Small Sample of Popular Workshops from Past years:
Presenting a Song in a Jam
Band Skills with Mile Twelve
Mark O'Connor Fiddle Player Extraordinaire
30 Years of Memories with White Mountain Bluegrass
Banjo Making Demonstration with Steve Wilson of Wilson Banjo Co.
Harmonies with The Gibson Brothers
Songwriting Circle with Chris Moore and Ted Demille of 317 Main
Lead Vocals with Tim O'Brien of Hot Rize
Family Activities  2023 SCHEDULE HERE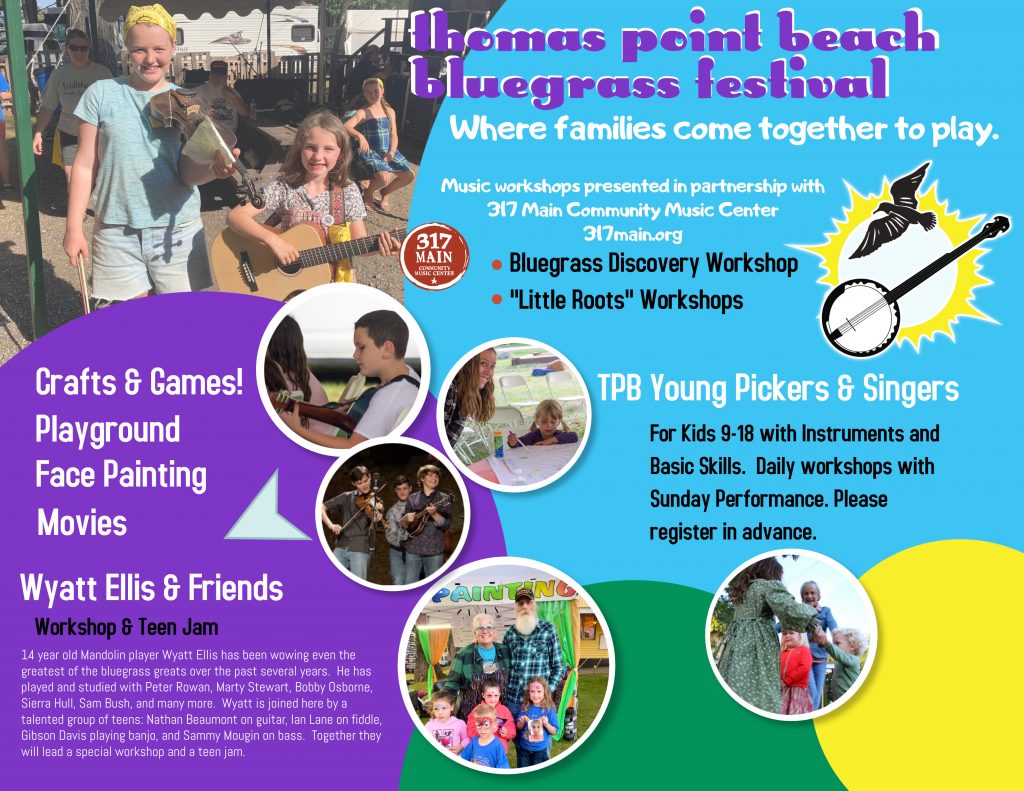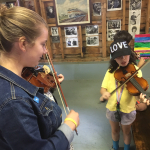 We pride ourselves on being a family friendly festival and offering activities for all ages.  We say "Family Activities", because we want guests young and old to come together to participate.  In addition to offering a variety of arts and crafts  and games, in 2017, we teamed up with our friends at 317 Main Community Music Center, in Yarmouth, Maine to assist us in bringing some musical programming as well.  Join in Little Roots classes with the youngest of fans and Discover Bluegrass with Carter Logan.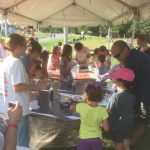 A playground, sandy beach, Bingo, Rec Hall, Giant Jenga and nightly family movies (Th, F, S & S) add to the fun!
Examples of past Activities:
Building Fairy Houses
Learning about Horseshoe Crabs
Bubble Fun
Tie-Dying
Scavenger Hunts
Hula Hoop Contests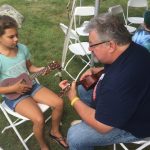 Most Family Activities are held under the White Tent in the Playground Area or in the Rec Hall.  Check the Program Booklet on arrival for details or ask at the Information Tent.
TPB YOUNG PICKERS & SINGERS
Calling all young pickers & singers! Open to aspiring musicians ages 9-18* of varied skill level. Participants should have their own instrument and have at least basic rhythm skills and can play to tempo. 317 Main Community Music Center teaching artist Carter Logan joined by Melissa Bragdon Caron will offer 3 days of workshops to create an ensemble to perform on stage Sunday of the Festival. Participants should be able to attend at least 3 sessions including both SUNDAY time slots to perform. Aspiring Bluegrass vocalists who do not play an instrument are welcome to register as well. Please send questions to bluegrass@thomaspointbeach.com.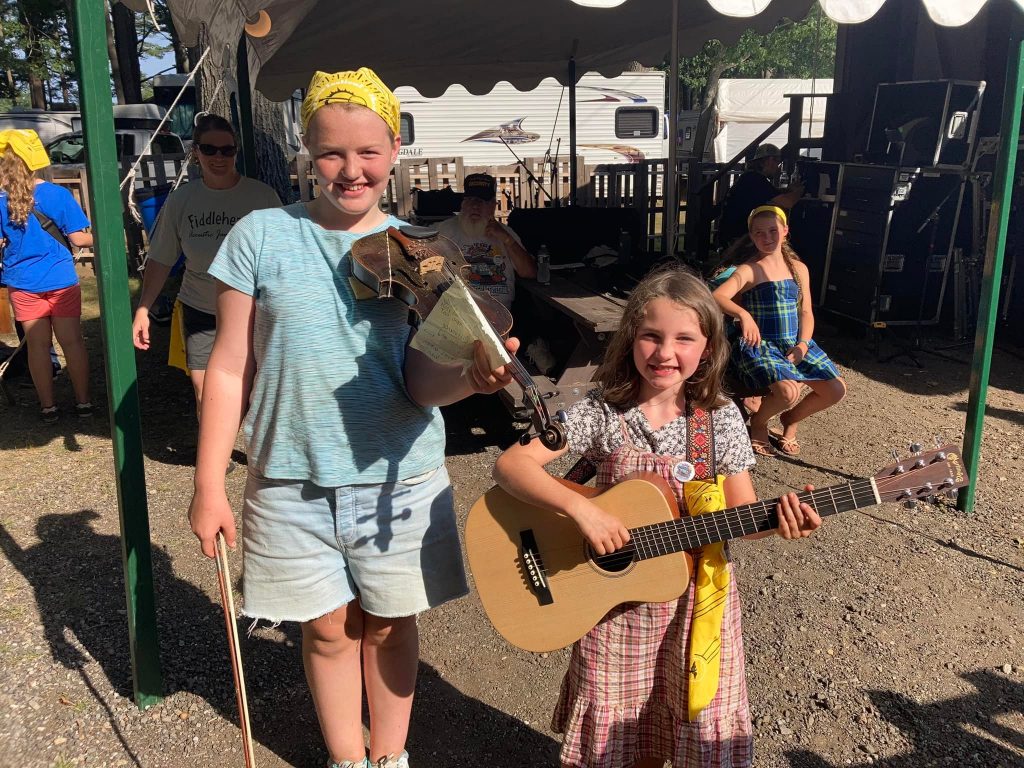 Pre-registration will help with our planning.
Tentative schedule
Friday 2-4 pm
Saturday 2-4 pm
Sunday 11-12 pm and 3-4 before 4:00pm on stage performance
* Musicians under 9 will be considered with permission
Held under the JAM TENT ON THE HILL
PLEASE REGISTER IN ADVANCE HERE